STAINING

Paints & Finishes---Varnishing

At the bottom of this page, we have included a Chart of Sherwin Williams Oil Stains and Minwax Oil Stains (avail at Sherwin Williams). IMPORTANT: Browser Colors may be distorted... visit your Sherwin Williams store for True Color Chips!!!
What Surfaces Can Be Stained?
Unlike Painting which applys a thin FILM COATING to a surface, thus hiding the surface... Stain is actually ABSORBED INTO the surface material and lets the surface texture and grain show thru...
All wooden surfaces can be Stained, provided that they have No Paint, Varnish, Wax, Grease or Sealers on them which would prevent the Stain from being absorbed into the surface material...
All

newly formed

Cement Floors can be Stained, provided they have cured for 30 days, and have been Etched with a 10% solution of Muratic Acid in Water, then dried for 24 hrs... and provided that only Cement Stain is used... All the Colors of the Rainbow are available and the Color will never fade or wear off...
Masonry or Metal can be Stained provided the surfaces are properly prepared... read the Label of your Product!
Types Of Stain
OIL, LATEX, Solid, Semi-Transparent
Oil Stains are recommended for most Interior applications... Dry time is 4-6 hrs... clean up with Paint Thinner...
Latex Stains are more commonly used for Exterior applications on rough unfinished wood... Dry time is 1 hr... clean up with Water...
Solid-Color Stains can hide surface imperfections better and will still show grain...
Semi-Transparent Stains will allow coarse grains to show thru more than Solid-Color Stains, inhancing their beauty more...
Applying Stain
Stain is as thin as Water and great care must be used when applying it to avoid splattering and spills... it requires a little practice to properly Brush Stain without getting runs or drips...
You must STIR the Stain every few minutes to keep the pigment saturated
If you're applying Stain to a previously unfinished surface... lightly Sand first using Fine Grade Sandpaper, then dust-off and wipe the surface clean...
If you're applying Stain to a previously Stained (before varnishing, or sealing) surface... first remove dust, mildew, paint or chalk with appropriate cleaners...
The most important thing to remember when applying Stains to Doors, Woodwork, Cabinets, Moldings etc. is to apply the Stain using a Roller, Brush or Rag and then WIPE OFF THE EXCESS IMMEDIATELY with a clean rag... to give a UNIFORM application...
To avoid "Lapping" (dark lines where freshly coated areas overlap)... always Stain FROM dry areas INTO wet areas, and do not Stain in direct sunlight or on hot surfaces...
You can Stain over a lighter color Stain with a DARKER color Stain (prior to Varnishing) but you can NEVER "lighten up" the color of the previous Stain...
Expect to "get your hands dirty" when using Stain... using Gloves is OK but sometimes prevents doing a better job...
For Brushes use Polyester or Pure Bristle...
For Rollers use a Short Nap Cover... 1/4 to 3/8 inch...
For Rags use old TOWELS not Sheets...
For Oil Stain, clean-up with Paint Thinner...
What To Do After Staining?
The best thing to do after Stained wood has dried (4-6 hours) is to apply a coat of clear Varnish to protect the surface... Satin or Gloss Varnishes are common with Satin being the most popular... Varnish takes 3-4 hrs to dry before a second coat can be applied... There are some quick dryng Varnishes but don't use any that dry in less than one hour...
For Exterior Stained surfaces on wood, it is best to seal them with a Spar Varnish for weather resistance... the same holds true for Interior surfaces that will be exposed to Water, like counter tops...

Paints & Finishes---Varnishing



Paint is a "Fluid Medium" and unlike wood or other materials, requires special care when applying it to insure uniformity and durability! [read all the tips]
Sherwin Williams Oil Stains...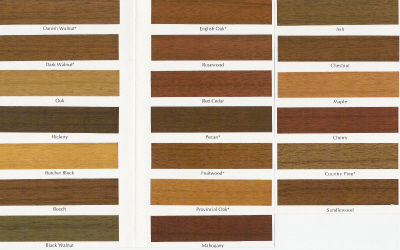 Minwax Oil Stains (Available at Sherwin Williams)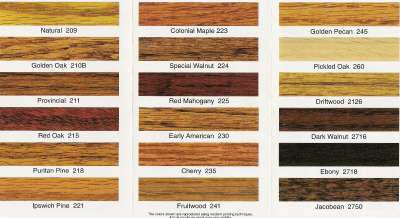 Copyright © 1998-2023 Paintahouse.Com®All Rights Reserved