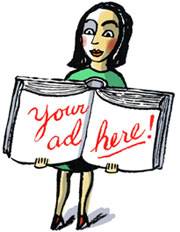 Advertise With Us For FREE

Start Getting More Traffic To YOUR Site
What? You don't have a web site! Click Here and start building one!
INSTRUCTIONS: Fill out the form below and Send It to us... ads are placed on a "first come basis" ...when we receive your Request and Info, we will e-mail you and start running your Banner Ad
Be SURE ALL your information is CORRECT... Read our Privacy Statement
You may change to your Ad Banner Image any time for FREE, just use Our Contact Page to instruct us as to what you want...
We will Notify you by E-Mail that your Request has been accepted and include any other Details that you need to know and promptly place your ad on our Paintahouse Front Page... first come first serve placement... we reserve the right to remove your ad at any time (without notifying you)
IMPORTANT RULES: Your Ad Banner Image MUST be of the size 120x90, it can be any type (static, animated, flash etc)... Sorry but Porno-Related Ad Types Will NOT Be Allowed, nor will any other Illegal Types or Types that we deem unfit... your Ad Banner Image will be placed on the Bottom of our Paintahouse Front Page which receives lots of TRAFFIC at our site... first come first serve placement... we will link it to the URL you desire and host the Image on Our Server... your Ad Banner will ALWAYS BE VISIBLE (it will not rotate with other ads)... Paintahouse® assumes NO RESPONSIBILITY FOR ANY AND ALL TRAFFIC YOU RECEIVE FROM YOUR AD BANNER... YOU PLACE YOUR AD TOTALLY AT YOUR OWN RISK... You may Cancel your Ad Banner anytime by notifying us from our Contact Page

Copyright © 1998-2021 Paintahouse.Com®All Rights Reserved